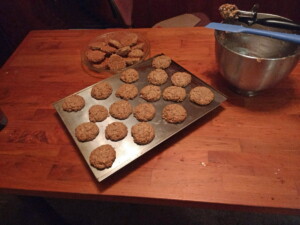 This oatmeal cookie recipe is adapted from the one on the  Quaker Oats lid. I reduce the sugar, add extra liquid in the form of one more egg and maybe some yogurt. The result is like little bite-sized quick-breads, less short and less sugary, far more oat-textured.
These large recipes used to feel like a lot of work. But I recently invested in a Kitchenaid  stand mixer — second hand off craigslist— and a cookie scoop and together they have changed my life!
(edit, on 2/10;  BY THE WAY, Please don't expect your handheld to do the job. I've burnt out several on projects like this– marshmallows, for instance– and a friend just burnt hers out.
But she says the cookies were good.)

Ingredients
whisk together;
3 cups flour
1 teaspoon Baking Soda
1 teaspoon Baking Powder  (the original calls for baking soda only, but two teaspoons of the stuff shows up in the flavor)
1 tablespoon Cinnamon ( Or more; We like our spices, and we don't stint them in these recipes. We also add;) 
1 teaspoon Allspice, or Pumpkin Spice mix, or
1/4 teaspoon Ground Cloves, plus  one teaspoon Ground Nutmeg
1/2 to 1 teaspoon finely ground Black Pepper (optional, and you can even add more if you love the flavor as much as I do)
1 teaspoon Salt (seems like a lot, but the oats  need it)
Blend together (did I mention how much I love my new-to-me Kitchen Aid?)
1 cup Shortening (I use a combo of unsalted Butter for 'mouth' and vegetable shortening for economy)
1 cup packed Brown Sugar
2/3 cup White Sugar (these quantities are reduced from the original. we're after something not so much like a sugar cookie)
5 Eggs (1 more than the original recipe, because we'll be adding so much more oats)
1/2 cup Yogurt (optional. It might be my imagination that it adds a certain depth of flavor at this small quantity. You can add milk, or apple juice, or any other liquid you like– or leave it out entirely)
2 teaspoons Vanilla Extract
I like to chop a cup or more of Walnuts  and I add them in once the fats and liquids are beaten together, and then;
Add the Flour in one cup portions along with a cup and a half— or even two cups— of old fashioned Rolled Oats each time. (You will end up forcing five to six cups of raw oats into that mixture, don't you LOVE your stand mixer?)

Heat up your oven to 350 or 360 while your dough rests up from all that work. The cookies really are tenderer that way.  I've never let the dough rest for 2 hours as is recommended, but even twenty minutes makes a difference.
Get a cookie scoop if you don't have one!  Most scoops are really  generous. I like to have a ton of small cookies rather than a half a ton of large ones, and I got the smallest one that Smart&Final puts out on the shelf— 1-1/4 ounce.  That size gives me just about 5 and a half dozen cookies. I wouldn't mind a one ounce one as well.
This dough doesn't do much spreading, but don't crowd the cookie sheet— that's a lesson I only recently learned.  I've flattened the balls of dough as they plop out of the scoop, and I've also left them to sink down around their edges on their own. I think they are cuter when they look like  half-domes. The edges get crispier and the high middles stay softer, which is a nice textural game for your mouth.
Bake them for 10 minutes, then turn the tray for another 4 or 5 minutes.  If you have a cooling rack, you can spatula them onto it after a few minutes of cooling on the pan. 
I remembered to take a picture!